Windows 11 Home – Product Key Global
Product Details
Availability: In Stock
Delivery: Key – Instructions will be emailed. Delivery time from 30 minutes to 6 hours.
Language: Multi-language.
License Period: Lifetime
Introducing Windows 11
Windows 11 is the upcoming major version of the Windows NT operating system developed by ,
This operating system was announced on June 24, 2021, and is the follow-up to Windows 10, released in 2015. Windows 11 will be released to the general public on October 5, 2021.
Windows 11 has the features and security of Windows 10 with a redesigned and refreshed interface. Windows 11 also designs and adds new tools, sounds, and applications.
So far, it's shaping up to be an incredible and promising operating system, even if there's still room for further improvement. This promises to be the version of Windows that everyone loves.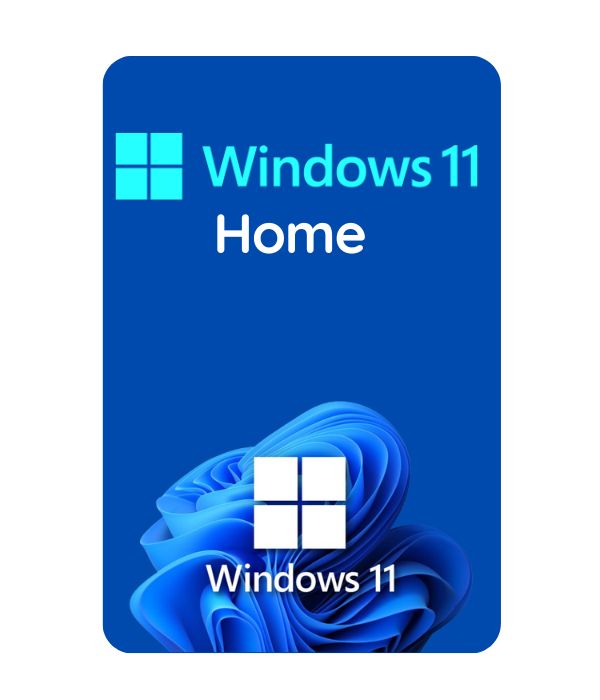 New features appear in Windows 11 Home
Here are some outstanding new features included in Windows 11:
1. Refreshed interface more like Macbook.
Windows 11 has a cleaner design with rounded corners, pastel colors, and a centered Start menu and Taskbar.
2. Integrated Android apps.
Android apps will be coming to Windows 11 via the Amazon Appstore, which will be accessible from within the updated Store. There were a couple of ways to access Android apps on Windows 10, especially if you had a Samsung Galaxy phone, but this will make it native. (Note that Android apps will not be available upon the initial release of Windows 11.)
3. Widgets.
While they've been around for a while (remember desktop gadgets on Windows Vista?), including in a recent Windows 10 update, you can now access widgets directly from the Taskbar and personalize them to see whatever you'd like.
4. Teams integration.
Teams is getting a face-lift and is pinned on the Windows 11 Taskbar, making it easier to access (and a bit more like Apple's FaceTime). You'll be able to access Teams from Windows, Mac, Android or iOS.
5. Xbox technology supports better gaming.
Windows 11 with certain features found in the Xbox console, like Auto HDR and DirectStorage, to improve gaming on your Windows PC.
6. Better virtual desktop support.
Windows 11 will let you set up virtual desktops similar to macOS, switching between multiple desktop spaces for personal use, work, school, or gaming. You can also change the wallpaper you like on each virtual desktop.
7. Better multitasking.
The new operating system includes features called Snap Groups and Snap Layouts – a collection of apps you're using at once on the taskbar where it can appear or minimize simultaneously to switch between more manageable tasks. They also allow you to open and exit the screen more efficiently without losing the position of open windows.
How To Activate Windows 11 Home?
Step 1. Open "Settings".
Step 2. Select system select activationstate
Step 3.  Click on "Change product key".
Step 4. Type the 25-digit product key sent to you after purchase.
PRODUCT KEY: XXXXX-XXXXX-XXXXX-XXXXX-XXXXX
Step 5. Click "Next" to complete the process and activate Windows 11.
Windows 11 Home system requirements
Minimum system requirements to install Windows 11 on PC. If your device does not meet these requirements, you may not be able to install Windows 11 on your device.
Processor: 1 gigahertz (GHz) or faster with 2 or more cores on a compatible 64-bit processor or System on Chip (SoC).
RAM : 4 gigabyte (GB).
Storage: 64 GB or more prominent storage device Note: See below under "More storage space to keep Windows 11 up to date" for more details.
System Software: UEFI, Secure Boot Capable. Check here for information on how your PC can meet this requirement.
TPM: Trusted Platform Module (TPM) version 2.0. Check here for instructions on how your PC can be activated to meet this requirement.
Graphics Card: Compatible with DirectX 12 or later with WDDM 2.0 driver.
Display: Larger 9" high definition (720p) display diagonally, 8 bits per colour channel.
Internet connection and account: Windows 11 Home edition requires an Internet connection and a account.
Moving a device out of Windows 11 Home in S mode requires an internet connection. Learn more about S mode here.
For all Windows 11, internet access is required to perform updates and downloads and take advantage of some features. A account is required for some features.
How does the purchase process work?
First, just pay with ADD TO CART. After payment, we will send the key and setup instructions via email to you. Product delivery time ranges from 30 minutes to 6 hours from the time you pay. Please wait and check for mail in your inbox or spam.
Reasons to use ours Windows 11 Home Key Global
Genuine Licenses: Our software products are 100% genuine.
Dedicated Customer Service: We are available to help customers before making a purchase, during the purchase process, and even after a sale.
Unbeatable Price: We always offer incredibly affordable products.
Instant Delivery: After the required transactions are completed, we will send the digital products to the customer almost immediately.
How to buy Windows 11 Home?
First, click add to cart and pay according to the instructions. After payment, we will email you the product key and installation instructions. You check the product in your inbox or the spam box.
35 reviews for
Windows 11 Home – Product Key Global