Visio 2019 Professional Key Global For Personal Account
Product Details
Availability: In Stock
Delivery: Key – Instructions will be emailed. Delivery time from 30 minutes to 6 hours.
Platform: Windows 10,  Office 2019, Office 365
License Period: Lifetime
Product Description Visio 2019 Professional
Visio is the diagram and vector graphics application part of the Office product family. With the annual update of new features, Visio has become a more user-friendly software for many users worldwide.
The primary mission of Visio software is to provide a process and make it easy for customers to find goals for your project.
All your projects will be made using brilliant art combined with templates. Visio 2019 makes it easier for you!!
With Visio 2019, you can create work-related diagrams such as flowcharts, org charts, and project scheduling. In addition, Visio allows you to create diagrams of a technical nature, such as construction drawings, house diagrams, network diagrams, software diagrams, site diagrams, machinery diagrams, and other technical diagrams.
Details about Visio 2019
This is a brand new genuine license cd key activation subscription to your account.
Buy once and use for life on 1 PC. This license can be transferred to other devices.
Create professional diagrams easily with pre-made templates and shapes
Build and validate diagrams backed by industry standards, including BPMN 2.0 and UML 2.5
Use your fingers or pen to draw and annotate more naturally on touch-enabled devices
Create visualizations of databases using built-in database model diagrams
Collaborate with others by adding and replying to comments in Visio
Link diagrams of live data from internal and external sources
Key Features of Visio 2019 Professional
Create mind maps and beautiful designs from thousands of available templates.
Link internal data with each other and with many different external applications.
Simple teamwork on a map: edit, add, reply to comments, etc.
High security.
Apply a stylus or finger to edit diagrams more quickly (for touch-enabled devices).
Supports BPMN 2.0 and UML 2.5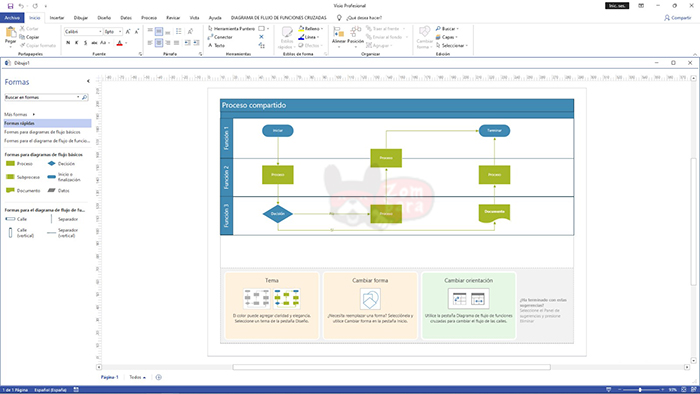 How to Redeem and Install?
1. Go to redeem..com
2. Sign in to activate your account.
3. Enter our purchased product key.
4. Download and install Office.
5. Once installed, sign in with your account, which will automatically activate your Office.
How to buy Visio 2019 key?
The first click is to add to the cart and pay according to the instructions. After payment, we will send the key and how to set it up via email. Please check your inbox at inbox or spam.
68 reviews for
Visio 2019 Professional Key Global For Personal Account